Title:
MOTHER 3
System:
Game Boy Advance
Publisher:
Nintendo of Japan
Developer:
HAL Laboratories / Nintendo
Release:
April 20, 2006 (JP)
Rating:
All Ages (JP)
Price:
¥4800 (Regular Version)
¥18,000 (Deluxe Box)
Rare Rating:
Get It:
eBay
Game Swag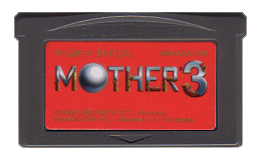 Information:
Over 10 years of waiting rewarded fans of EartBound and the MOTHER series with this 3rd installment. A
Mother 3 Deluxe Box
edition was produced in limited quantities to help celebrate the occasion. Unfortunately, MOTHER 3 never saw a North American release despite the demand from fans. However, it can be imported and
IT IS
compatible with all American Game Boy Advances, as there is no region lock for GBA games. Check out the
MOTHER 3 section
for more information.
Images: