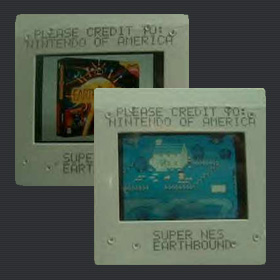 Information:
These magazine test slides were sent out by an unknown production company to video game magazines like Nintendo Power to be used in articles and ads. These might be the only slides you ever see.
Front:
Please Credit To:
Nintendo Of America
Super NES
Earthbound
Back:
Please Return To:
Golin/Harris
(xxx) xxx-xxxx*
*Phone number withheld.
How To Get:
Images:
Slide
Special thanks to
GotARiverFenixEP
for the info and pic on this very rare item.