Title:
Master Belch Plushie:
Manufacturer:
Banpresto
Licensed:
Nintendo of Japan / HAL Laboratories
Release:
June 2010 (JP)
Dimensions:
11cm
Price:
¥?
Rare Rating:
Get It:
eBay
Game Swag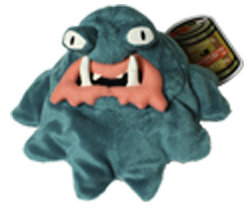 Information:
The Master Belch plushie, also known as Geppu, could be found at Japanese arcades in various styled UFO crane games. This was a limited time prize manufactured by Banpresto, who also made the
Incognito Mr. Saturn Plushie
and
Giant Mr. Saturn Plushie
. Master Belch was reportedly rarer as the same UFO crane game also contained many more of the
Ball & Chain Mr. Saturn
. Both are part of a set called Geppu's Base (Master Belch's Base) and come complete with a Jar of Fly Honey tag.
Images: