Final Battle: Page 2
This image has been resized for your convenience.
Click on it to view the full size version.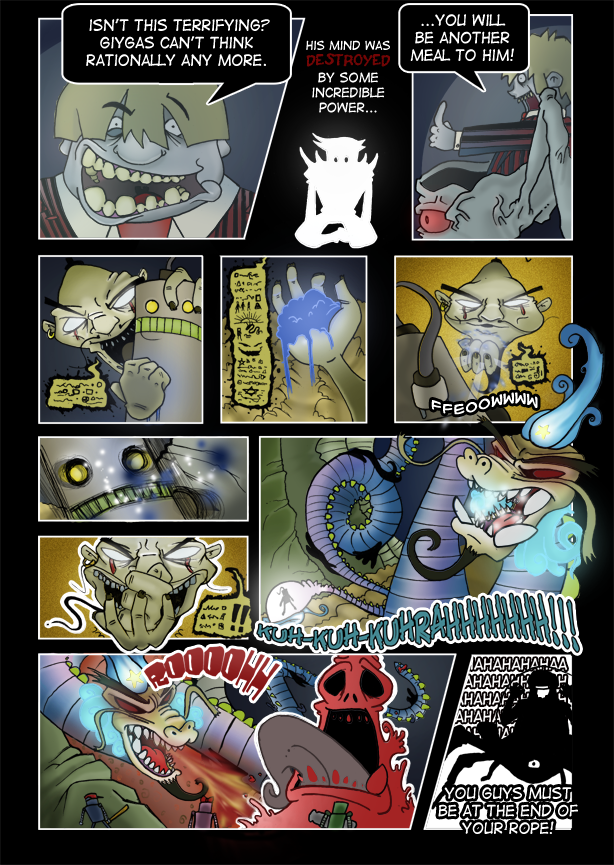 As Pokey explains, Giygas's mind went KABLOOEY ages ago, so now he's a dribbling, grotesque gaseous mass, floating in the air. However, Pokey seems pretty confident that this red menace will finish off the Chosen Four. When there's something weird, in a crazy intestine tube place, who you gonna call? Well, for Poo, his ancestors. Yup, the same spirit who happily tore off Poo's legs, arms and various other pieces that he kinda needed to do stuff has come back to aid him. Just so happens that there's an abundance of Dragonite in the Underworld, and with it, he can turn into a fire breathing dragon. As you do. Despite their efforts, Pokey is unimpressed at these so called heroes, and mocks their futile attempt to stop Giygas. I think, maybe, one of the Chosen Four might just suddenly.. SNAP
PERFECT 10! The score will say 1.10, but it's actually 10.