Oh no! Dungeonman is falling!
This image has been resized for your convenience.
Click on it to view the full size version.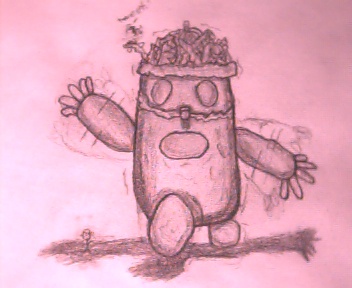 Run away, Dungeonman is falling! This pic took quite a bit to make. I had to shade it just right to get that wood look, and making the eyes hollow is harder when he's looking forward, but surprisingly easier than pupils. The hands are also easier since there was a large line where the palm would be. I put a bird on top of his head, although it's hard to see in this shot, I put it there to show his gaintness. Hope ya like!