Chapter 1 - Page 58: Of Oreos and Hocus-Pocus
This image has been resized for your convenience.
Click on it to view the full size version.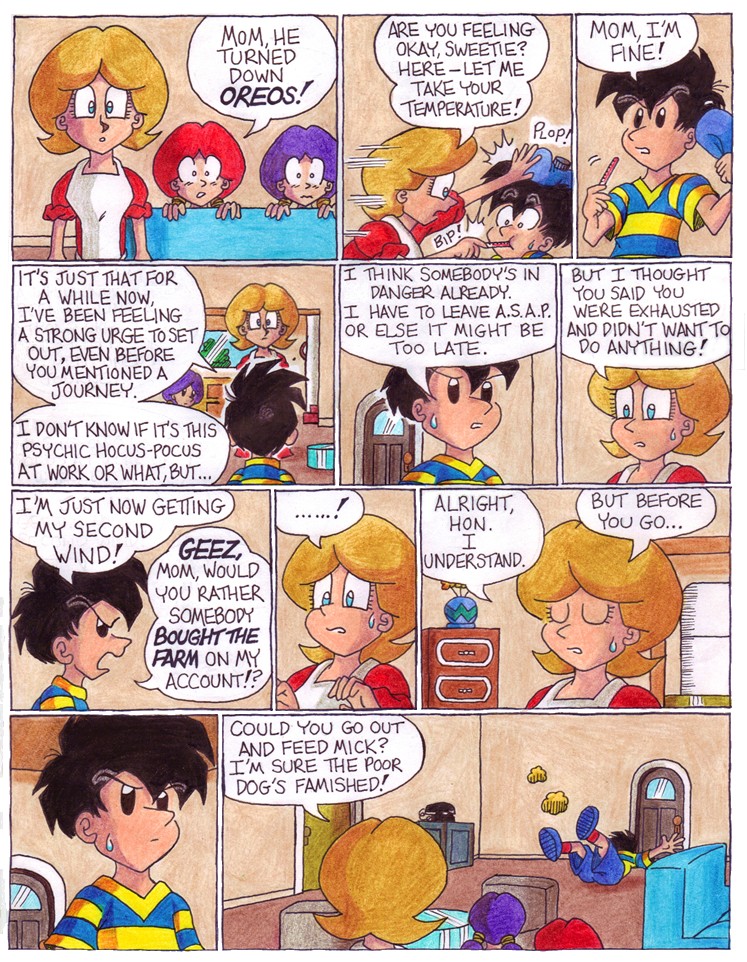 kenisu - #58
I've always felt the livingroom was awfully... stark. I designed it similar to what's seen in the game, knowing full well how bland and... I dunno, threadbare(?) it looked, but I wanted to keep it that way, just for a laughable throwback to the simple 8-bit design of the game. But dang, after drawing and coloring all these pages, it seems to me that I should have at least succumbed to wallpaper, windows and a light fixture! What kind of psycho house -doesn't- have windows around its front door? And without those windows or an immediate light source aside from the kitchen window, how could it be so bright indoors? That's the price of adhering 100% to the game's design for the house's exterior first, THEN putting together the interior. You look at the inner layout and realize it doesn't conform to the outer structure at all. In the game, the front door, as seen from the the livingroom, is brown and square at the top, with no built-in window, but outside, it's gray with a rounded top and window, AND the doorknob's on the wrong side! So I changed it to fit the outside appearance. At least that's one claim to consistency I can make.
I need a life.