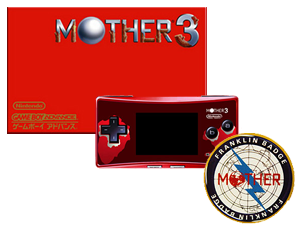 Information:
With a game as amazing as Mother 3, it is only fitting that it receives a very special release package. How special? How about along with Mother 3 you can get a limited edition Game Boy Mirco and a Franklin Badge. Also included is a small cloth bag to keep your new Game Boy Micro safe. Pretty sweet.
The Mother 3 Deluxe Box will be sold on a limited-time made-to-order basis. So if you want one, I highly suggest you get one
NOW
before its too late.
This deluxe box sells for 18,000 yen, which is about $155. This does not include any extra fees such as shipping and handling if you are importing.
Mother 3 is currently only scheduled for release in Japan. If you intend to import it,
IT IS
compatible with all American Game Boy Advances, as there is no region lock for GBA games. The Game Boy Mirco is also compatible with all American Game Boy Advance games.
How To Get:
Images:
Box (Front)
-
Box (Back)
-
Cart
-
Game Box (Front)
-
Game Box (Back)
-
Game Box Inserts
-
GB Mirco (Front 1)
-
GB Micro (Front 2)
-
GB Micro (Back)
-
GB Micro Box 1 (Front)
-
GB Micro Box 1 (Back)
-
GB Micro Box 2 (Front)
-
GB Mirco Box 2 (Back)
-
GB Micro Box 3 (Front)
-
GB Micro Box 3 (Back)
-
GB Micro Inserts
-
Red Bag (Front)
-
Red Back (Back)
-
Black Bag
-
Adapter
-
Franklin Badge (Front)
-
Franklin Badge (Back)
-
FB Package (Front)
-
FB Package (Back)
-
Complete