Prologue - Page 3: Escape into the Woods
This image has been resized for your convenience.
Click on it to view the full size version.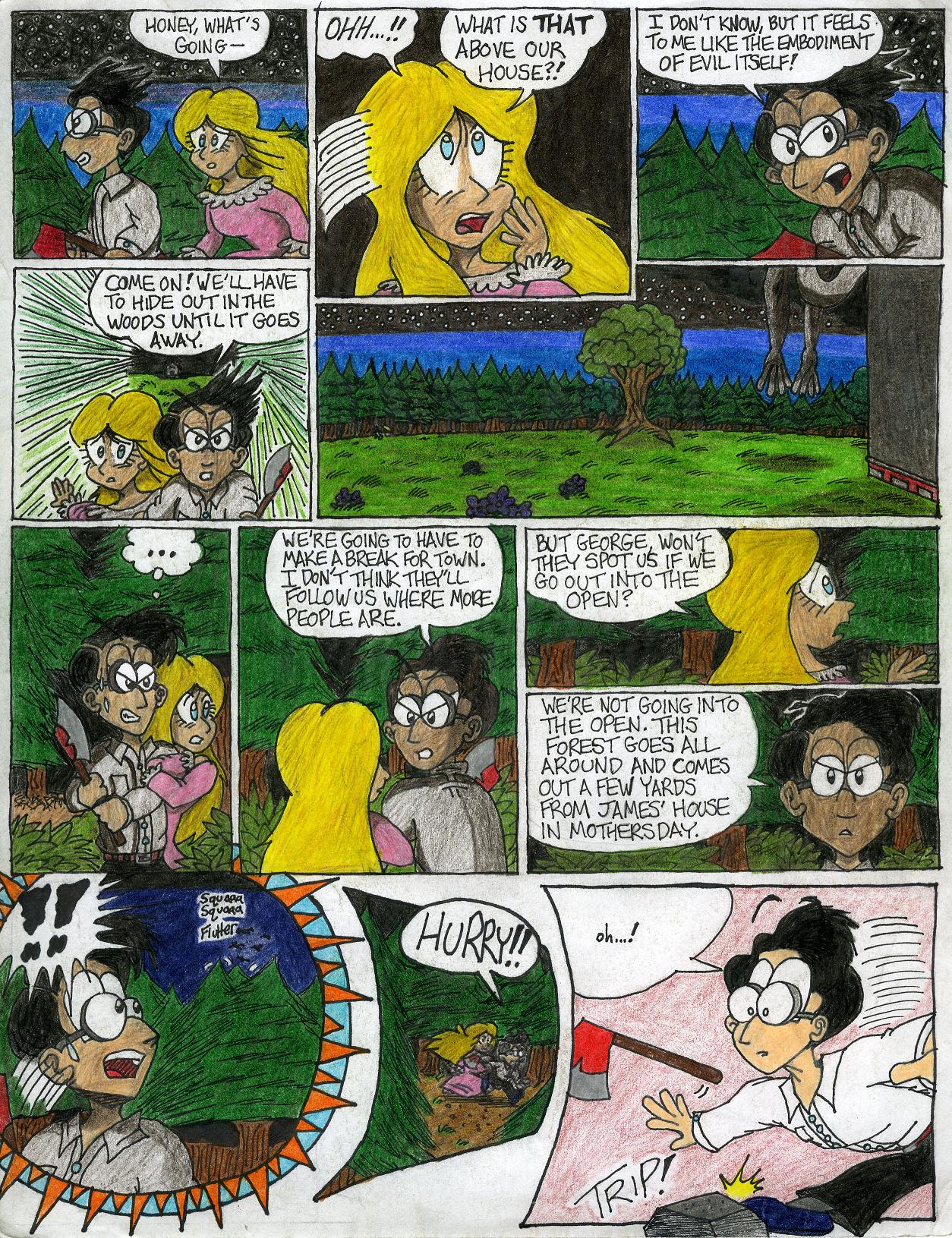 kenisu - #03
For those who haven't played the game, or have a very good memory of it, you'll find out, much MUCH later, exactly WHAT it is that is above George and Maria's house (or you can just play Mother and it'll tell you right there in the two paragraphs in the opening narration).
What I'm most proud of in this page is the fifth panel (the long one that dives under Maria's "What is THAT above our house?!" panel and juts out a bit under the third) - I absolutely nailed what I had in my head for that shot, and it also gives a glimpse at what I love so much about the landscapes of Mother. If you don't pay much attention to the detail anywhere else on this page, study this panel carefully. At the left end you can see George and Maria in the distance entering the forest, and at the right end is a pair of mysterious legs and a tail descending slowly in front of their home.
The dialogue of the panic-stricken couple was quite touch-and-go for me. I wasn't exactly sure what direction I wanted them to escape, but I wanted Mothersday Town to be mentioned, so I made that their planned route (BTW, I found out recently that the holiday Mother's Day didn't even exist in 1906, much less a town named after it...). Then I needed an outlet for the couple, someONE they could run to. So, using the concept of simple names like "George", I had him mention, in passing, some guy named "James". At first, James only existed for the sake of George mentioning someone they could run to, but as I was illustrating page 7, I found a way to use James further as not only as an outlet, but as THE outlet to represent a family friend's reaction to all that's about to happen. Yes, we'll get to see James in person later, and he'll come strongly into play.