Queen Mary Shows Ninten the Wisdom of the World
This image has been resized for your convenience.
Click on it to view the full size version.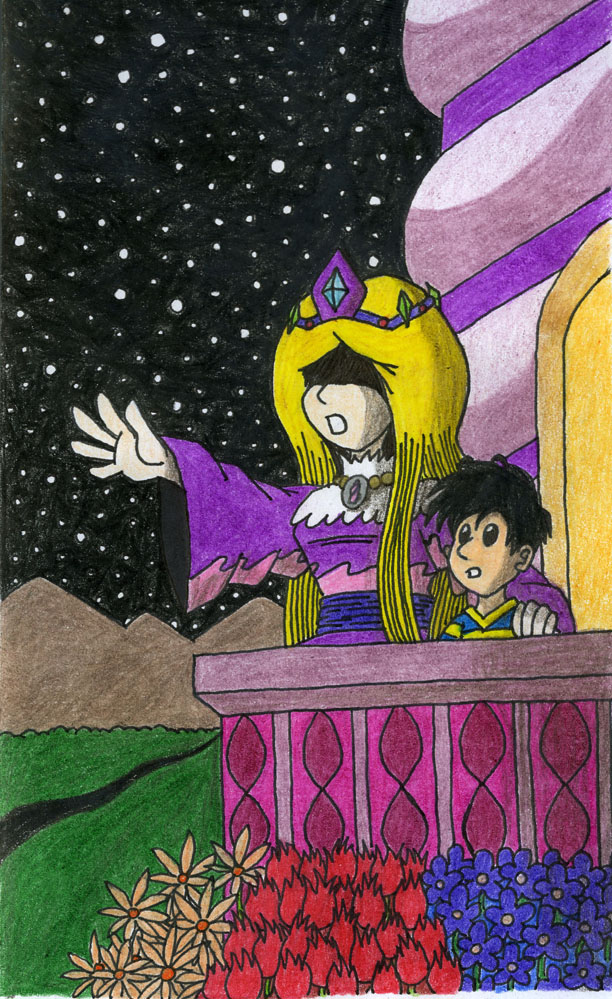 Here's another image that has been haunting me ever since I completed EarthBound Zero six years ago. It is strange, since this never actually happens in the game, but I always had an image of some added scene where Queen Mary takes Ninten out to the castle balcony and philosophizes about the stars in the sky. Of course, it's assumed that night does indeed fall in Magicant. Anyway, when I finally, FINALLY bought the Mother 1 soundtrack (re-issued) earlier this year, I fell in love with the song "Wisdom Of The World", which only served as backup for my mental image of this mysterious scene.
You may notice that Ninten isn't wearing his hat. that's only out of respect since he's in the presence of this enigmatic queen from some time-forgotten dimension. Also take a good look at the central emblem on Queen Mary's pendant. It's God's Tail, the rock that warps Ninten into Magicant.