Chapter 2 - Page 65: Dark Clouds Swirling Over South Cemetery
This image has been resized for your convenience.
Click on it to view the full size version.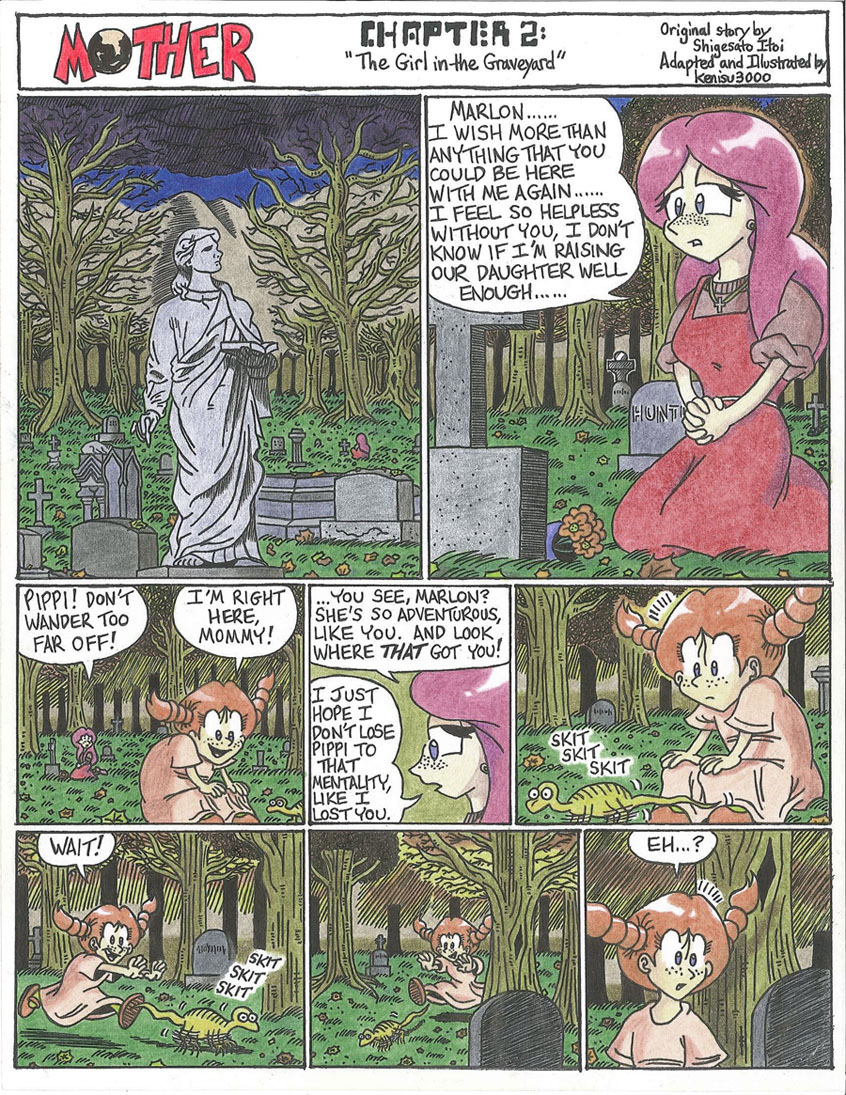 kenisu - #65
Chapter 2 will be sort of like my Halloween Funfest comic from 2007, except with a more fleshed-out story and plenty of "deleted scenes" in between - not to mention, of course, colored pages and a different ending.
The sarcophagus in the middle of the first panel was based on one I saw while at college. Just outside of my dorm building, visible from the windows on the north side, was a large cemetery (I wonder if that says anything about the quality of life in those dorms?), and as I was walking past it one day, I noticed an enormous headstone with this incredibly somber-looking statue, so when I illustrated my Halloween comic, I decided to go down into the cemetery with my art supplies, and add that and a few other gravestones in for touch.
Pippi's late father's name is Marlon for a number of reasons. For one, I'm not too great with naming characters, and I tend to let my mind go into "roulette mode" until it lands on a name I think would fit. Fortunately, the name Marlon wound up fitting almost bizzarely perfectly in the grand scheme of things. You'll see what I'm talking about toward the end of the chapter. Also, it's kind of funny when you realize I fan-named his wife Marilyn. Marlon and Marilyn... it's like I did that on purpose.
Finally, I just have to draw attention to the lizard. I'm not sure if this is the sort of habitat one would find a lizard in, but I think it was the MOTHER Encyclopedia, once again, that gave me the idea to have Pippi get herself lost while chasing one