It's the start of a brand new week! Isn't that refreshing? Make the most out of today! As always, we're going to start the week with a Fan Comics update!
We're continuing with Darrow's
The Chosen Four
and we're still playing catchup, so please take a look! We are nearly done, however, which is immensely exciting!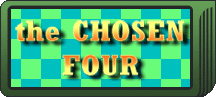 The archive password is:
ness
Please be sure to check out the
Fan Comics
section. We've been slowly, but surely updating work from the old archive, but I do hope you'll bear with us as we continue!
To submit your own comic, you can do so
here
or
submit on the forums.