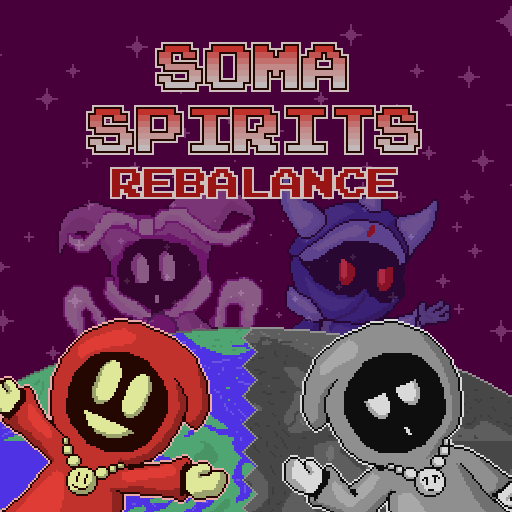 "Soma, a world once united under the banner of a great ruler, eventually torn apart by its own people by their hatred and distrust for one another. Two great beings appeared to decide the fate of the world. In a great cataclysm, Soma and everything within in it was divided into two, and two guardian spirits would watch over these new realms."
Back in August, I'm sure many of you saw or played long time member SgtMettool's game, Soma Spirits. It was quite popular among our community.
Anyway, SgtMettool is putting the next game in the Soma series, Soma Spirits: Rebalance, up on Steam Greenlight and seeing how many people were fans of the previous title, we thought it might be a nice idea to let you all know and see if you'd like to help out!
This info about the game is taken from the Steam page:
Soma Spirits is a choice-driven Role-Playing Game in which players will face heavy dilemmas with a colorful cast of characters. Unlike many games of choice, the decisions you will make in the world of Soma are not so black and white, and characters will undergo different changes depending on how you wish to proceed.

The world of Soma is a land divided into two similar, but distinct versions of one another. At certain locations, you will be able to switch back and forth between the World of Joy and the World of Sorrow and find different inhabitants, monsters, and clues on how to proceed. How you decide to help the people you meet along your journey will determine which of the game's five outcomes Heart and Soul will find themselves in.



-----------------


Soma Spirits: Rebalance builds upon the core Soma Spirits experience and includes various upgrades to the game's story, visuals, and introduces new challenges and objectives for new and returning players! Including:


Expanded story elements with new scenes and character interactions to enjoy.
Rebalanced combat with multiple difficulty levels. New Easy mode will allow you to enjoy the story at your leisure, while Hero mode will test your mettle!
Numerous visual upgrades; remastered sprites, reworked maps, UI upgrades, and more.
A new postgame dungeon with unique challenges and new boss encounters to face.
A reworked and streamlined intro sequence.


One of the things we love at Starmen.Net is the things the members of our site create and we are happy to help to help out when we can. If you are a fan of good RPG's or simply want to help out a fellow member, check out the links below!
Click here to find more info about Soma Spirits: Rebalance and help support the game on the Steam page!
Check here to download and play the original Soma Spirits for absolutely FREE!