Title:
EarthBound Player's Guide (US Only)
System:
Super NES
Publisher:
Nintendo of America
Developer:
HAL Laboratories / APE
Release:
June 5, 1995
Pages:
128 Full Color
Price:
$69.95 (with game)
Rare Rating:
Get It:
eBay
Game Swag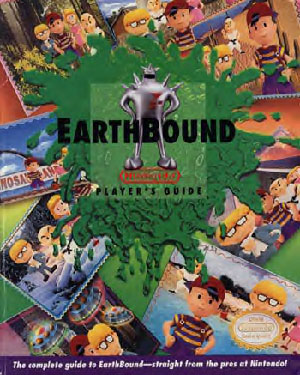 Information:
With every new box of EarthBound came this huge Official Nintendo Player's Guide. This player's guide contains maps of every area, a walkthrough, information about items and enemies, clay figure pictures of almost every character and enemy, real-life pictures that are related to places, and joke ads and newspapers. This player's guide has it all. A must have for any EarthBound fan. A total of 128 full color pages.
In the back of the guide there are 6
Scratch-n-Sniff Cards
that represent different aromas you might encounter while playing the game. One of these cards had a mystery smell, and if you sent it in to Nintendo, you would get a free
Mach Pizza Air Freshener:
in return. This air freshener smelled like pizza and was shaped like the Mach Pizza delivery man.
Retromags
released high-resolution PDFs of the EarthBound Player's Guide. Check it out!
(single page version)
(wide page version)
Images: