Title:
Mother 1+2 Coca-Cola Keychains:
Manufacturer:
Coca-Cola
Licensed:
Nintendo of Japan / HAL Laboratories / Community Store
Release:
August 26th, 2003
Price:
¥120
Rare Rating:
Get It:
eBay
Game Swag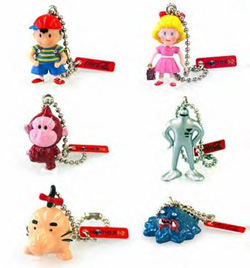 Information:
Nintendo briefly teamed up with Coca-Cola in Japan to help promote the Japanese release of
MOTHER 1+2
for GBA. With the purchase of a 500ml Coca-Cola product from any Community Store (a convenience store-chain in Japan) included one of six different MOTHER 2 keychains. All the packages looked the same, so which one you got was completely random. Each keychain comes with its own "Coca-Cola Tag." Even though this was a promotion for MOTHER 1+2, only MOTHER 2 characters were used. Sorry, no Ninten or Smoking Crow keychains!
Images: