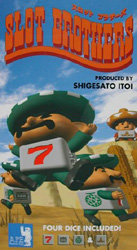 Information:
This is a Cards & Dice game based off the Slot Brothers in EarthBound/Mother 2. You remember the Slot Brothers right? You can find them by the side of the road in Dusty Dunes Desert.
Published by APE & Nintendo. Designed by Shogo Toda & Shigesato Itoi. Reccomened for ages 10 and up.
Special thanks to KingDarian for providing the information and some pictures.
How To Get:
Images:
Front
-
Back
-
Cards & Dice
-
Set