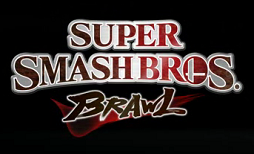 Title:
Super Smash Bros. Brawl (US)
Great Fray Smash Brothers X (JP)
System:
Wii (Nintendo)
Genre:
Action/Fighting
Release:
January 31, 2008(JP)
March 9, 2008 (NA)
June 26, 2008 (AUS)
June 27, 2008 (EU)
Rating:
ACB: PG
CERO: A
ESRB: T
PEGI: 12+
Price:
6,800 yen (JP)
Players:
1-4
Publisher:
Nintendo
Developer:
Sora
Director:
Masahiro Sakurai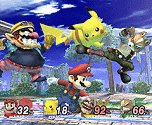 The third installment of Nintendo's successful series Super Smash Bros! The Smash Bros. series has always been about staple Nintendo characters duking it out, and Brawl is no different. Brawl not only introduces an enhanced single player experience called The Subspace Emissary which dwarfs its predecessor's adventure mode by a longshot, but also features 35 characters and 18 stages for its multiplayer brawl mode. For more information, be sure to check out Mashiro Sakurai's blog, which was updated daily until a full year after the game was released, for complete details on the game.