Cerebrum
This image has been resized for your convenience.
Click on it to view the full size version.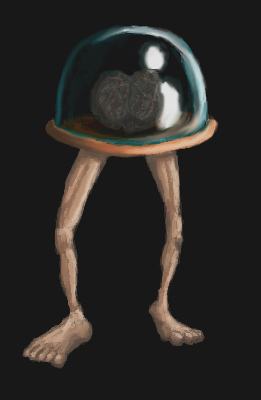 The Cerebrum enemy from Mother 1. Another one of my favorite pieces, mostly because it's so close to what was in my mind before my digital pen touched my Wacom tablet.
Maybe it's just my neuropsychology background at work, but I thought that the Cerebrum to be one of the cooler, more fitting of the "campy" enemy ideas in EB0. I mean, he's a brain, on a glass-domed platter with legs sticking out the bottom! How awesome is that! The legs on the original didn't look quite so human, so I decided to have them look human-ish, but not quite.