Happy New Year From Mr. Saturn!
This image has been resized for your convenience.
Click on it to view the full size version.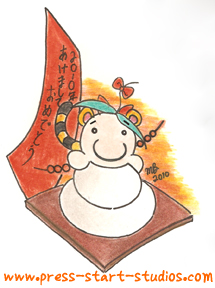 This was a free drawing that I included in a customized letter to my first buyer on ebay as a way to show my thanks and gratitude. The drawing is done in ink and colored pencil. The letter to my customer has been edited out for obvious privacy reasons.
In the drawing, Mr. Saturn is dressed up as a tiger, and sitting on a Japanese New Year's decoration, called a kagami mochi. This is meant to celebrate the new Lunar Year.