MOTHER 2+3: The Fall Of The Pig King: Chapter 0: Prologue p.11 - CHAPTER END
This image has been resized for your convenience.
Click on it to view the full size version.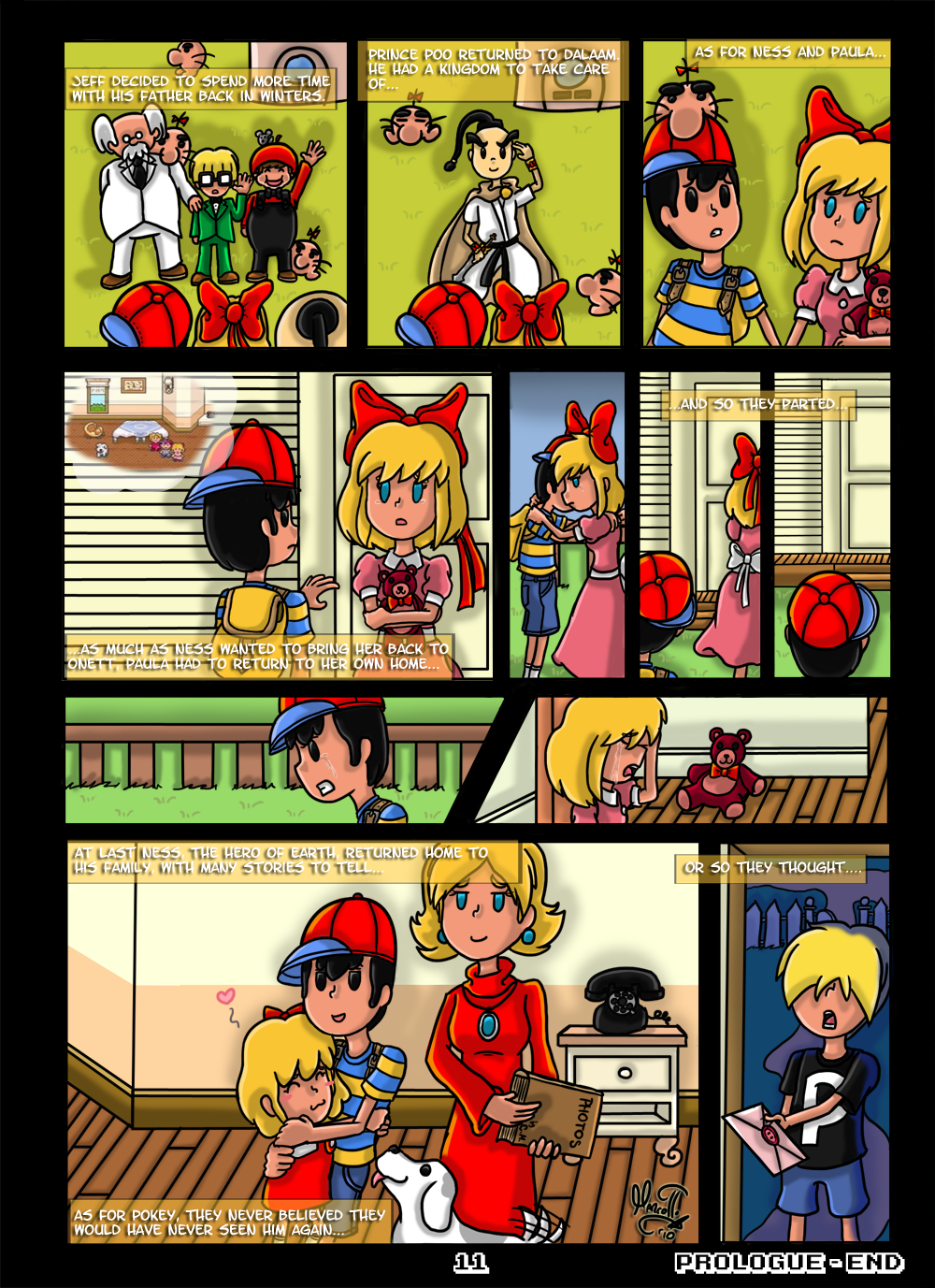 fotpk - #11
And so, at last the prologue has ended, i bet you all expected an happy ending for Ness and Paula huh? I chose the good ending when i played MOTHER 2/Eathbound, but what about the part in the "Smiles and Tears" where it says: "and now the two are far apart?" I'm a HUGE NessXPaula fan so rest assured that the next chapters will talk a LOT about this relationship...
"Jeff stayed with his father, Poo went back to dalaam, and Paula decides not to follow Ness back to Onett and to stay in Twonson, forgetting a really important thing...
Ness thought he would never hear of Pokey ever again... but one night Picky, Pokey's brother, brought him a letter from his brother to Ness. Looks like this story hasn't reached an end yet...
SMILES AND TEARS
I haven't lived even half as long as adults have,
but I do have plenty of memories in my backpack
My favorite baseball cap, my sneakers with worn-out heels
Deep in my pocket is my worn-down guitar pick
There were some things sad enough to make tears come out,
but you were always by my side
I thought of the two of us as just friends the whole time
I probably loved you without ever realizing it
We walked while we laughed, played, and got hurt
I realized it as we took shortcuts and went in circles:
that even if you can't believe in everyone
you can't cast aside a heart you do believe in
You made me stronger just being who you are
Like a gentle wind blowing and swaying the grass
you always walked with a smile
Yes, the two who shared smiles and tears one after the other…..
(I miss you)
…..are now far apart….."
STAY TUNED CUZ IT'S GO TIME!!!