Mother 3: Symphony: Ch1 P28 - Hesitation
This image has been resized for your convenience.
Click on it to view the full size version.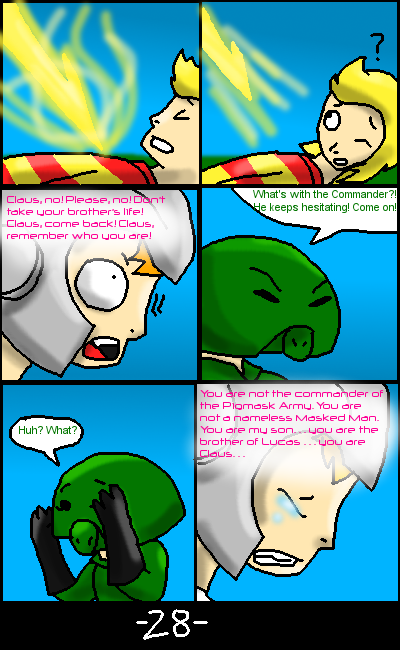 m3symph - #28
The Masked Man thrusts his blade forward, but before it can cut through Lucas's heart, the voice calls out to him again, telling him that he is not just a Masked Man... the voice tells him that he is her son... the brother to the boy he was about to kill... he is someone named... Claus.
The Pigmasks wonder what's ailing their Commander. Why is he stalling? Why doesn't he just hurry up and dispose of the adversary? Laurah uncovers her eyes, shocked by this turn of events.
The Masked Man is suddenly finding himself full of emotions, tears beginning to fall.
-------
AND I JUST REALIZED I FORGOT THE SCARS ON HIS EYES. D'OH!
For those who haven't figured it out yet somehow, the voice is Hinawa's spirit.