Wee!
This image has been resized for your convenience.
Click on it to view the full size version.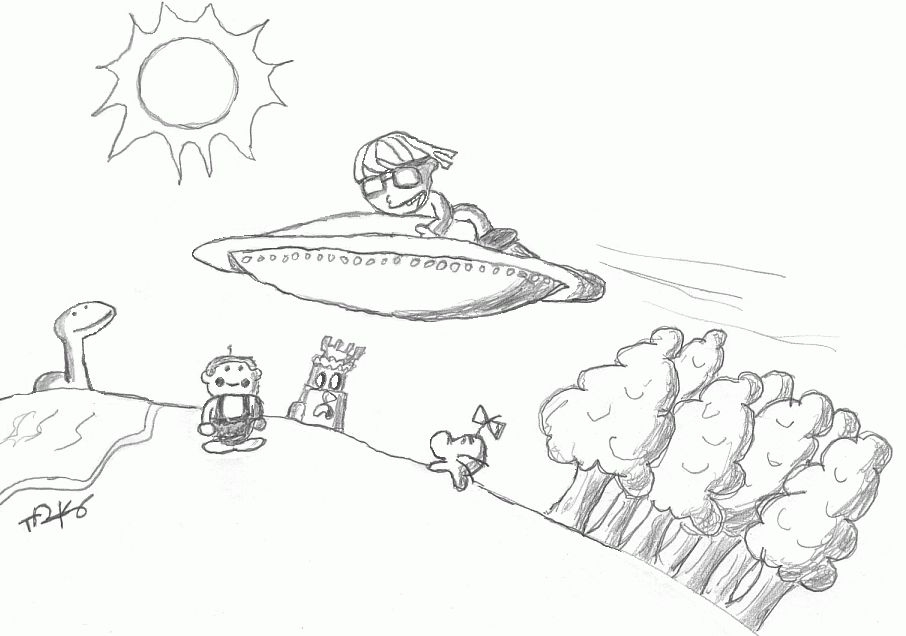 A long time ago, Back when an 8-gig harddrive was a luxury, I had created a piece of fan art that I thought was both fun and funny. It was of Jeff from Mother 2/EarthBound 2 riding atop the flying saucer in one of the game's familiar scenes, as the scenery below whizzes by below him. As I didn't have much in the way of proper art programs, it was done in MS-paint and submitted here on Starmen.net. The drawing, entitled "Wee!" (Not to be confused with the Nintendo Wii, har!) was never posted. I never figured out why, but I assumed it was because it was done in MSpaint and thus, looked pretty sloppy. Fast-forward to today. With the Mother 3 hype in full-gear, I find myself back here, listening to its radio broadcasts and perusing all of the site's information. I decided to give my drawing another shot, now that I have the scanner to do so. After reading the rules and signing up to the forums (Another probable reason as to why my initial submission was rejected), I now try again, this time attempting to add some other familiar characters as well. In my ignorance, I had forgotten what the UFO looked like (It's been awhile since I've played the game, I'm saving for Summer Of EarthBound) and drew Jeff on something more generic. Also, I have no confidence when it comes to coloring, so I hope I'm not breaking a rule by submitting it as-is. Anyway, I'm out of things to say so....Keilbasa!