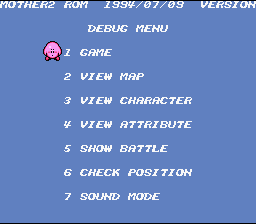 This second debug menu in EarthBound has actually been known about
for a very long time
. We just never had any idea how to access it or what exactly it did. But then thanks to Cabbage,
we finally got access to it
in early 2003.
This debug menu looks like it was used by a team at HAL (hence the Kirby sprite) that worked a lot on the map and walking around part of the programming. The other debug menu seems like it was meant for people testing the text, the text parsing system, events, and other things that are handled by the game's text.