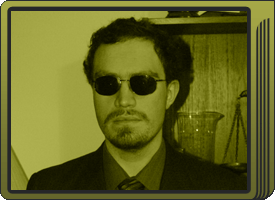 DJ Mon
(AKA Cyan683, aka the Digital Erde Kaizer)
DJ Mon made his start on Radio PSI as a trusted maker of Treasure Hunts for DJ Carp's show. When DJ Carp took a sabbatical in February 2007 DJ Mon seized the opportunity to make up for his absence as a temporary host on his old slot. Upon Carp's return, DJ Mon was retired, but was hired once again to permanently take over Carp's Friday night slot after DJ Carp retired (temporarily) a few weeks later. DJ Mon has tested his mettle and gone on to be heralded as the "Iron Mon" of Radio PSI, having gone over seven years without missing a single show. This dedication led to him becoming Radio PSI's new leader in March 2011, following the retirement of DJ ozztastic.
Towards the end of DJ Mon's first year he was joined by his trusty voice, The Voice. With his announcer-like sound, The Voice quickly became the voice of Radio PSI as well as co-hosting with DJ Mon. He brought his own flair to the show with his personal brand of verbal diarrhea and segments such as the Random Ramble, where he talks about ... something for as close to seven minutes as possible.
Sadly, DJ Mon lost his The Voice early in his fourth year, eventually replacing him with what would,in time, become his trusty The_Crew; The_Dragon (aka Drago), The_Random_Game, and The_Highlander. The_Random_Game provides inane-ness which The_Dragon counters with actual sense, while The_Highlander brings a feminine charm to the airwaves. In an unexpected twist, DJ Mon regained his The_Voice at the start of his sixth season.
DJ Mon still runs his Treasure Hunts and has accumulated many segments since his debut. With Name the Thing that the Ring is from Thing and the Free Ride, along with the occasional Food for Thought and Half Hour Hero, DJ Mon keeps himself busy.
His favorite artists include Aikawa Nanase, Great Big Sea, and BNL. He enjoys J-Pop/J-Rock, Video Game, and Folk music.
DJ Mon broadcasts every single week ever, presently from 6:00 PM - 9:00 PM, Eastern time, Saturday night.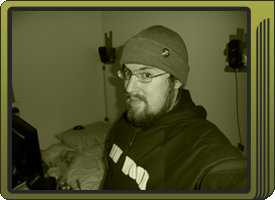 DJ AmzTrak
(AKA AmzRigh)
In 2008, DJ AmzTrak latched on to the Radio PSI team by securing a daily weekday morning show, which he broadcast faithfully from his workplace. His radio schedule, like his workday schedule was a bit erratic, and could end at any time. Since hitting the air, he's been improving the morning workdays of listeners worldwide. However, due to a change in work duties, consistent weekday music broadcasts ceased being possible in late 2010.
July 2009 saw DJ AmzTrak move into the realm of regular programming with This Week in History, where he recounts the events of the week, both recent and long past, with a particular predilection for the strange and quirky. This history lesson is accompanied by music that suits the event usually…sometimes you have to squint…with your ears).
In 2012, his live-gameplay series Throne of Games joined the Radio PSI lineup. Conceived in the wake of Funktastic Festival 2012, Amz and his cohosts adopted the format. For more information and the archives of past episodes, check out the Throne of Games blog. As Throne of Games became DJ AmzTrak's weekend show, This Week in History became part of Radio PSI's burgeoning weekday line up begun with RPG Club.
AmzTrak's favorite artists include R.E.M., The Tragically Hip, Yes, and They Might Be Giants.
DJ AmzTrak broadcasts his Throne of Games from 9:00 PM - Midnight, every Saturday night and This Week in History from 9:00 PM - 11:00 PM every Thursday.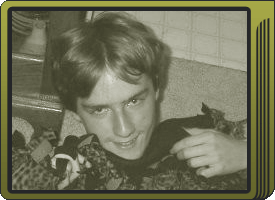 DJ Aquazition
(AKA Aquas)
Restarting the radio craze in 2001, DJ Aquas reopened Starmen.net Radio, which became very popular (and to this day, is still lovingly dubbed "Aqy Radio"), its best week boasting an incredible 140+ listeners. One of his more notorious stunts was playing Dance Dance Revolution's "Seven Jump" and Metal Gear Solid's "Mantis Hymn" for 14 straight hours.
A combination of being sidetracked and boredom led him to stop broadcasting sometime in 2002-2003, sometime before Radio PSI was created ... however, in July 2008, Aquas was invited to re-join the Radio PSI team, and he happily accepted. Relaunching as DJ Aquazition, he started on Thursday night, dispensing a unique brand of humour and musical goodness. In late May 2009, he moved into a Saturday night spot before eventually settling on Sundays at 9pm.
His favorite artists include Grandaddy and Boards of Canada, and he enjoys Video Game and Electronic music.
DJ Aquazition broadcasts at 9 PM - 11 PM, Eastern time, every Sunday night.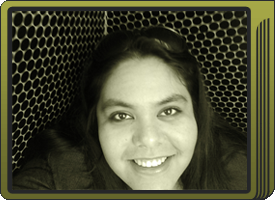 Miss Kame
(AKA Kame)
Miss Kame entered the Radio PSI team with an idea for something slightly off the beaten path for Radio PSI -- a talk show with guests. Dedicated to covering all sorts of topics, from the silly to the serious, from geek and videogame culture to what's going on in the world, her show promises to be an interesting change of pace from most other Radio PSI programming. In November 2009, Miss Kame slipped out of her Buddy outfit and donned the frock of a proper weekend DJ, adding all new dimensions to her show in the process.
Miss Kame likes ABBA, Smashing Pumpkins, and Fleetwood Mac. She also has a soft spot for mind-numbing songs (which she of course loves to sing along to). It's been reported that she has an infatuation with men's beards and ELO. But mostly beards.
Miss Kame broadcasts at 11PM - 1AM, every Sunday night.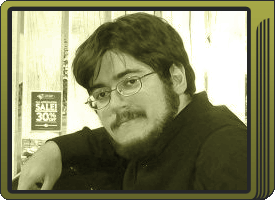 DJ Eggstreme
(AKA Eggstree)
A long-time regular to Radio PSI as a listener and occasional guest on Miss Kame's talk show, DJ Eggstreme joined the radio team after passing the 2009 tryouts as Buddy Aleggs Treebek. He distinguished himself early as a super-sub, covering for many absent DJs. In 2010, Treebek was promoted and became DJ Eggstreme, claiming a smooth spot in the weekend DJ lineup, and in our hearts.
DJ Eggstreme's flagship game segment, "Radio Medley", tests listeners' knowledge of popular music. Former flagship game segment "Bizarro Jeopardy" turns right into wrong and wrong into (possibly) right. On occasion, actual games of "Jeopardy!" are played for fun and prizes.
DJ Eggstreme is most fond of jazz, soul, R&B and oldies rock – in particular, Bobby Caldwell, The Eagles, The Rippingtons, Seal, and many more.
DJ Eggstreme broadcasts at 8PM - 10PM, every Friday night.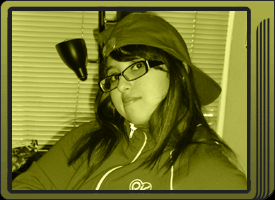 DJ Alchemist
(AKA Edo the DJ Alchemist, AKA Edobean)
In early of 2009, after encouragement from a former DJ, Edo decided to become more involved in the world of Starmen.Net. Shortly after joining the the IRC chats and listening to Radio PSI, Edo tried out as a Backup Buddy, becoming a full fledged DJ in May 2010. Being the cute and small one of the Radio PSI team, Edo does a lot of talking in a high pitch voice as it comes naturally. She'll talk about how her week has been, talk about any conventions that she has gone to, or just random things that are going on. She'll give a review of her 'Video Game of the Week', covering a random video game and talking about the pros and cons and her 'Anime Spotlight' covers an Anime that she has watched all the way through. Just recently, she has been passed the torch by ozwalled in taking care of 'Who Arted!?', a game in that takes part in the IRC and uses fanart from the Starmen.net's Fan Art section. Edo also loves to sing along with jpop/anime like musics and even plays some music that she's made and posted in her youtube.
Edo's favorite genres are JPOP, Anime, Video Games, 80s, 90s, and Remixes while her favorite artists include Perfume, Elton John, Micheal Jackson, No Doubt, Gorillaz, Duane and BrandO, BrentalFloss, YMCK, Utada Hikaru, and M-flo.
Edo the DJ Alchemist broadcasts from 10:00 PM - Midnight Eastern time, every Friday Night.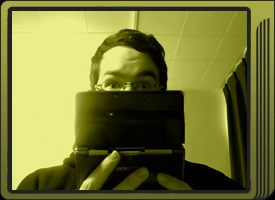 DJ Umbra
(AKA Nightshade)
DJ Umbra joined Radio PSI in the Buddy Flood of 2011. Promoted directly to the rank of Full Buddy along with Private Bozo, he clocked some serious hours in backup for other DJs (aside from DJ Mon). His dedication led him first to a weekly one-hour slot before the creation of the Buddy Slots for the Buddies to hone their skills in waiting for a chance to become a DJ. His chance came late in 2011 when Team Kobaugh went on hiatus, never to be heard from again.
Ever since, DJ Umbra has consistently filled the radio waves with shadows ... and video game music. From the Version Face-off constantly proving and re-proving the apathy of the voting public, to bungling through video games of any nature, DJ Umbra can always be counted on to have some nature of game on the horizon.
DJ Umbra's favorite music is primarily from video games.
DJ Umbra broadcasts from Midnight - 2:00 AM Eastern time, every Friday Night.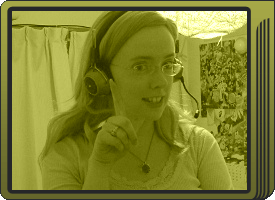 DJ Pollyanna
(AKA Izumi)
DJ Pollyanna was a long-time listener of the network but was unable to try out for the first few Backup Buddy calls thanks to her weird time zone in the Land of the Rising Sun. She returned to Canada in 2010 and began co-hosting the Who Arted? segment alongside Edobean after DJ Ozztastic officially retired.
As part of the Buddy Flood of 2011, she became Buddy Third Strongest and she made up the trial Buddies along with Buddy Indie Anna. She quickly proved her consistency and moved up to the role of Full Buddy, filling in for other DJs as needed, before being promoted to DJ to make room for new Buddies, Squire and Breakfast.
Along with DJ Mon and Edo the DJ Alchemist, DJ Pollyanna provides a certain Eastern flair to Radio PSI. She also rocks it old school with her MOTHER Party, and the crazy side with Scramblefish, Radio PSI's least comprehensible segment.
Favourite artists include Barenaked Ladies and The Weakerthans, Vienna Teng, MIKA, Blondie, AiM, Garnet Crow, ZARD and Kuraki Mai. She enjoys Japanese pop and anime music, 80s and 90s pop/rock, cartoon themes and sitcom tunes, and finding omega listener-style music to play for her popular segment Scramblefish.
DJ Pollyanna broadcasts from 7:00 - 9:00 PM Eastern time, every Sunday Night.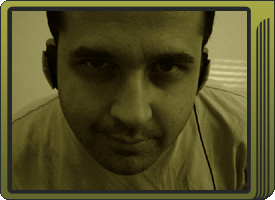 DJ Who
(AKA SerialPsychosis)
Along with fellow 2012 hire Buddy Squire and Buddy <place name here>, DJ Who is among the most recent additions to the radio family. Beginning as Buddy Breakfast, he always made sure the radio week was full of random and awesome. Radio Shuffle 2014 saw him move to full DJ as he took over Edo the DJ Alchemist's slot while she was on hiatus dealing with life.
DJ Who's musical wheel is comprised of primarily Jazz, Classical, Ska, Rock (most kinds), and Chiptune music, but covers just about everything. His favourite bands include Duke Ellington, Weezer, Cherry Poppin' Daddies, Anamanaguchi, Frédéric Chopin, Miles Davis, Tub Ring, and They Might Be Giants.
Buddy Breakfast can be found broadcasting from 10:00 PM - Midnight Eastern time, every Friday Night.